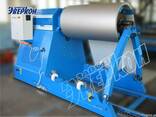 Equipment (machine) for profiled flooring (sheeting)
Price not specified
Светлов Валерий, менеджер
Flagma member since 30 May 2017

Roll-forming line for corrugated sheets
Application:
The automatic line is designed to produce profiled panels.
Profiled panels in use:
- the lining of walls of industrial and warehouse buildings
- heat insulation of front elevations (facades)
- roofing
Line Composition, Basic components:
1. Uncoiler
2. Feeding unit
3. Roll-forming section
4. Cut-to-length unit
5. Receiving table
6. Control system
Raw Material: Galvanized steel coils; Prepainted steel coils.
coil width 1250 mm
coil OD 600-1500 mm
coil ID 500-600 mm
coil weight (max) 10 000 kg
A/C net 380v, 50 Hz
Compressed air net 8...10 Bar
Temperature +5...+45 C
Lifting equipment 10 000 kg
Operation personnel 2 People.
Renewed: 4 January 2019, 12:23
views: 99
Similar ads